with

On Monday, 28th May 2018, Amanda Palmer played the stunning National Concert Hall Dublin, where she entertained a full house with her songs, stories, honesty and passion.
A remarkable artist, whom we had the pleasure to get an inside track on some of her views on being a DIY indie artist, the future of music revenue (following on from our MUSICxTECH Experience) and indeed the art of asking!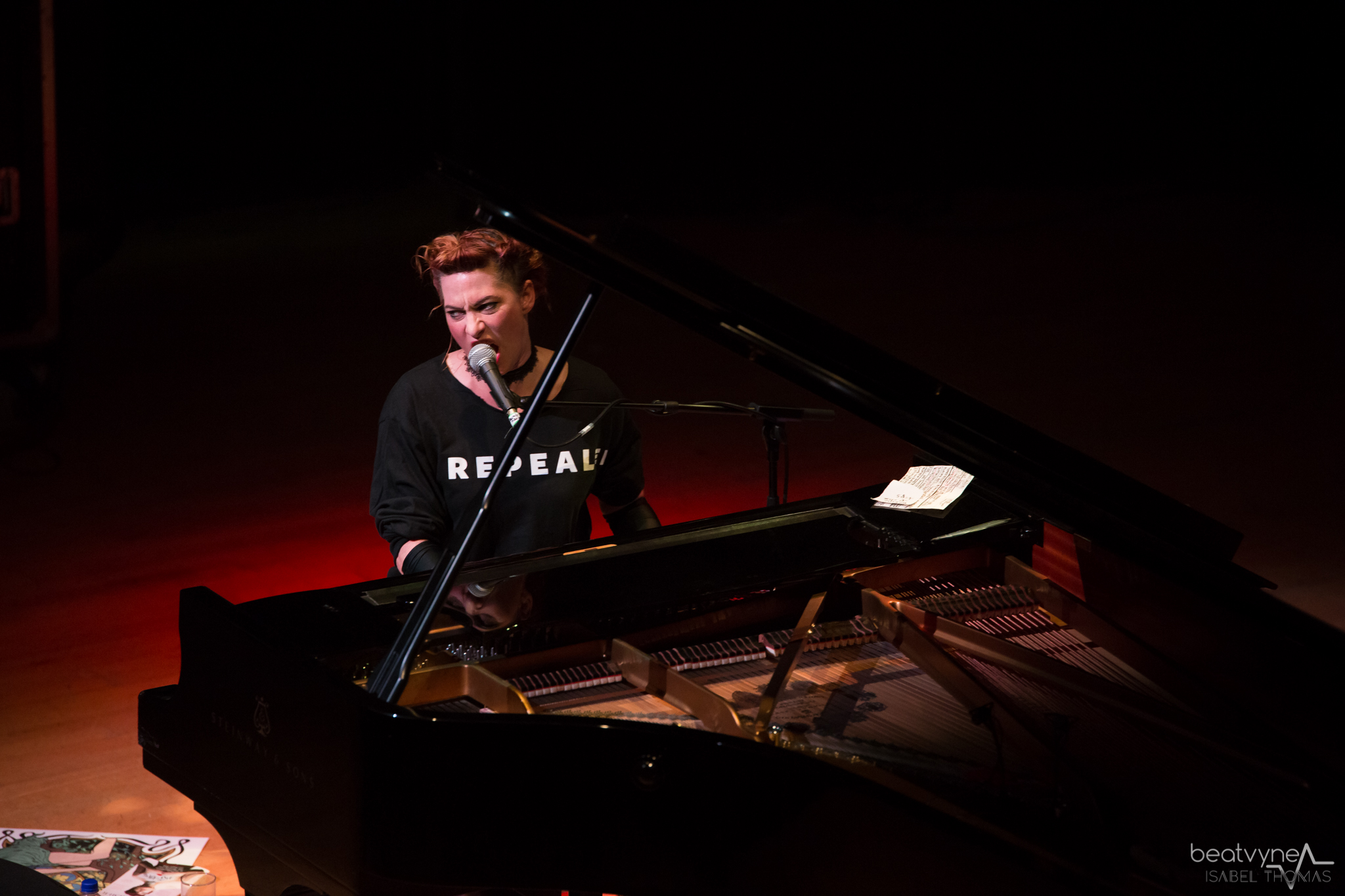 In your book 'The Art of Asking' and indeed your Ted Talk in 2013, you talk about the importance of direct connection with people, your fans, and the trust that is required from an artist to ask of their fans. But you also mention the fear that gets in the way of asking, that it may be perceived as begging and the vulnerability that comes with asking. Why do you think we find it so hard to ask? Is it a cultural thing, a societal thing that we're programmed with, that it is bad, a negative to ask for help?
I think the fear we harbor around asking comes from a million directions. It's based in a general fear that we'll be vulnerable, embarrassed if the answer is no, or embarrassed that people seeing us "asking" will think that we've somehow fallen short if we can't make it/do it/achieve it on our own. But , of course, we're a human tribe and everything, everything, everything is a result of asking and receiving and offering and taking. When you start to pan back and realize that every relationship in itself is a form of asking, it becomes a lot easier. I've found that different countries definitely have their own hang-ups around asking. Japan, for example, has rules up the wazoo. And the UK has a real mind-bending set of rules and regs when it comes to who is allowed to ask whom for what.
Throughout your career you have stood for the underdog, and seem to be a voice for the voiceless, the 'outcast' of society who doesn't necessarily 'fit in'. Does this create a sense of pressure on you to have to be strong for those that need help, to stand for justice and be the change that is required in this world, or does it spur you on and give you energy?
I may have been an underdog for a long time, and that may make my desire to help the downtrodden and outcast a littler stronger, but i'm actually a general humanist: I think everybody has the right to be free and happy. I try to focus my attention just on the outcast people who look convenient.
You're known for the famous line, "I think people have been obsessed with the wrong question, which is how do we make people pay for music. What if we started asking how do we let people pay for music". Five years on, how do you think people's attitudes have changed and have the online tools developed sufficiently in order to make this a reality? How do you see blockchain fit into such an ideology?
I think Blockchain is going to be an incredible fundamental tool in helping us keep track of things as we move into a new music and art economy. But the basic fundamentals that have to change are emotional more than technical, and they have to do with how an audience perceives their relationship with an artist. I've been using Patreon for about three years now instead of kickstarter – it's basically a permanent sort of crowdfunding, where your fans subscribe to you for a fixed reliable amount of money per month – and it's been life-changing. It's basically meant that I can draw a salary for simply working and making things without having to focus my attention on how to sell the things I make, it's really been a miracle. People can join for as little as $1 per month, and for that they know they are sustaining my ability to work outside the mainstream system. And people are starting to really understand the deeper relationships and exchanges that grow out of a relations like that; it's so much more personal than just giving $20 to a random cashier at a till for a piece of plastic with music on it.
The music industry has undoubtedly changed significantly over the years. While once touring was a promotional tool to sell albums etc, live music has now become an essential part of making a living as an artist. Do you think it's feasible or likely for that to continue? How do you think the experience of live music is changing?
I think the more people despair about what the internet is becoming and doing to our souls, the more they're going to crave the authentic experience of being together and having experiences, like going to shows. Live music is engrained in us, we are tribal. We'll be gathering and banging things that make sounds long after the internet has become unrecognizable.
Statistics show that 47% of all millennials/GenZ are struggling with depression and develop mental illnesses due to information overload and digital consumption overload. The good news is that music is a physical thing and 61% say that a live event is the best escape from everyday life and leads to real connections, which undoubtedly is a help to counter acting those worrying numbers. Do you think music helped you to combat anxieties, and in what way would you say music can make a difference in the world, if it can at all?
Music saved me. I don't say that lightly – it saved me from a world that I found unbearably isolating and lonely. I've found a way out of that loneliness, and I've found I don't need music as much as I used to, which in a way makes me feel sort of melancholy. But I truly believe music has powers beyond what we can articulate, and of course it does. It's music; it can say things without words and touch us in places unreachable by other means. It's everything.
When your stint with the record label ended do you think your rebellious nature and punk instincts helped to brush it off? But you didn't just get back out there, you redefined what it means to be an indie artist, and reimagined how to connect and develop connections with your fans. How much did you draw from your early days of being a street entertainer, your first jobs and where does this fit in with the 21st century technological world?
When you're a street performer you learn incredible patience, you learn how to have a thick skin. You also learn those things when you're a woman in the music industry who hangs out on the internet. People just really love hating you, yelling at you, abusing you, and finding reasons to tear you apart. And you just keep working. It's the only way out. You address some things, you ignore others, but the only way out of the terrible noise is to simply keep making art, keep making art, keep making art. It's the escape car with endless fuel that manages to outrun all the trolls.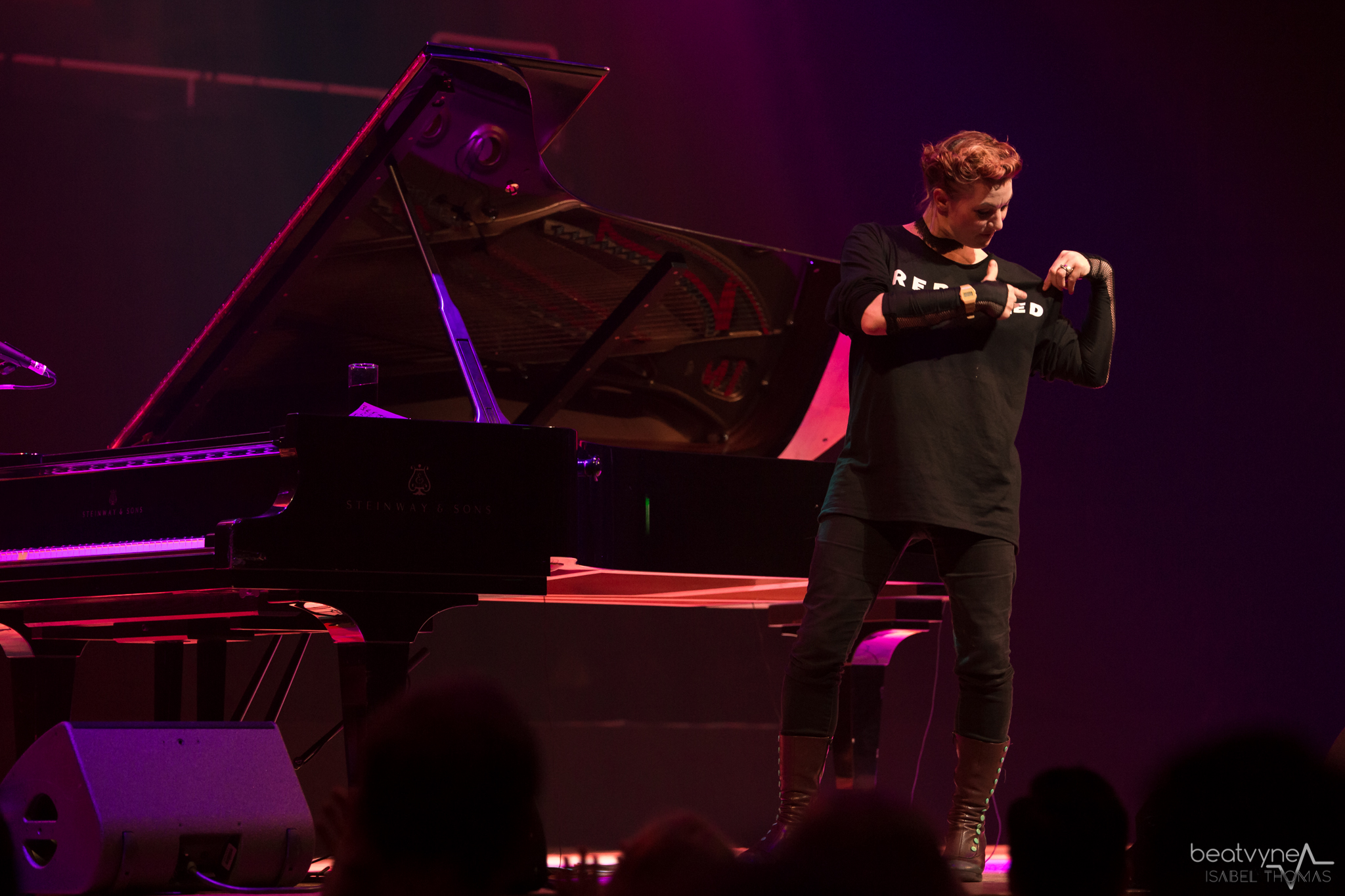 We recently had the pleasure of seeing you play at the National Concert Hall in Dublin. It was a special moment, and as we said to you on twitter, "last night was more than a gig! It was a historical moment you shared with us, a moment that captured a new Ireland, a cleansing from old norms & reflected a new revitalised energy". We, of course were referring to the recent repeal of the 8th amendment of the Irish Constitution that made it illegal to have an abortion. The timing of your performance in Dublin was serendipitous, considering your own personal journey and your campaigning for human rights. We will never forget this gig! You shared every emotion from honesty, sadness to anger and humour through song and story, mixed with funny and bizare anecdotes, but how special was it for you to be in Dublin at such a monumental juncture?
I can safely say it was one of the most memorable and humbling gigs of my life. To get to be there, in that city, at that point in history and to be able to sit at a piano and share my own stories…it was an honor. And I'd just spent three days in the city sharing the joy and relief of so many women, hearing their stories, feeling their exhaustion. I only wish I'd had more time. I would have said more, done more. I felt like I wanted the night to go on and on and on so that we could exorcise every demon that ever existed. It was on the UK tour leading up to that Dublin show that I started talking very openly about my abortions and miscarriage on stage, inspired by the political action that so going on with the Repeal movement. It felt like a homecoming of sorts. One thing is for sure; when women start inspiring other women with the truth, we are legion. We are absolutely unstoppable.
Wow, what an interview, what a woman, what a human! We are humbled you have given us your time and we enjoyed the chat. We also cannot wait to see you play live again, perhaps even in one of our beatvyne spaces.
If you liked the interview and want to find out more about Amanda visit her here. You can also catch her upcoming performances at the Party In The Cemetery: Celebrating Woodstock's Gothic History in Colony, Woodstock, New York on 23rd June or closer to these neck of the woods in Queens Hall, Edinburgh on 9th August. For more info on all her shows pop this way.
If you're still with us, we salut you! You are indeed a true music fan 🙂 And as a special gift, we would like to invite you to reimagine your music experience with us on beatvyne. What you say? Yes, it's possible. Join as a fan and get access to the most unique music spaces around and discover the coolest, newest music on the scene. Whohoo!!
Or amp it up even more, and become a Host and bring live music into your life. Yes, we live live! Find out all about it here.
And finally, if you're an artist/band, and looking to freshen up the whole vibe, this is the space for you.
'til next time,
The beatvyne crew!