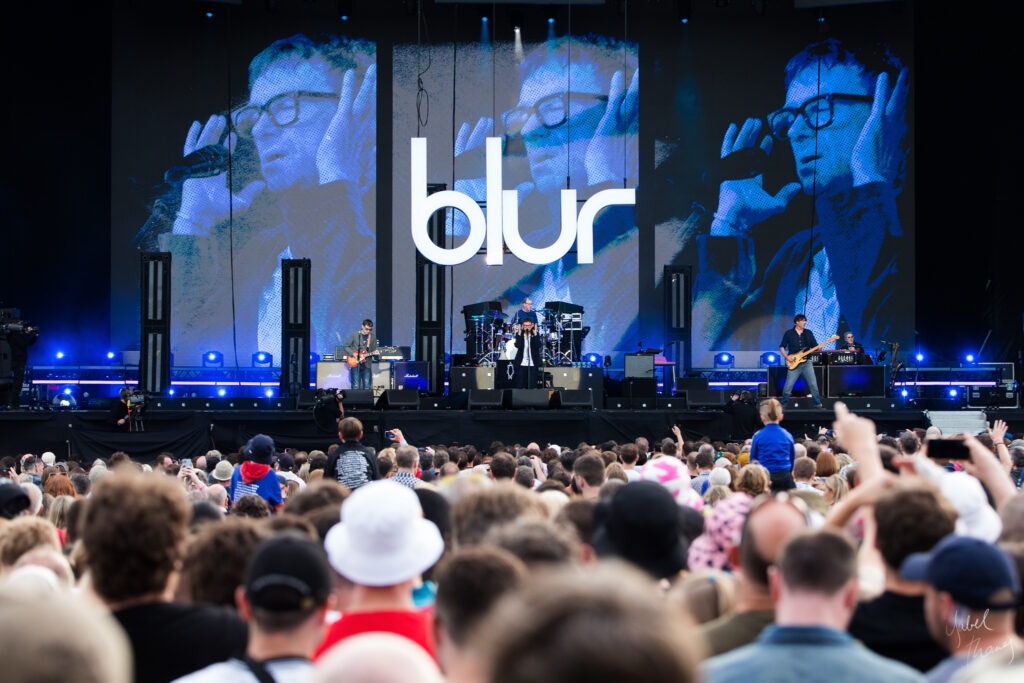 'Is that really Blur', I heard a voice say. 
I looked up and saw a middle aged woman, with sunglasses on, and jacket tied around her waist. She had just come from the bar and was standing with a plastic cup of beer in hand. 
I was also wearing sunglasses so we may have been making eye contact. But I was preoccupied, after making my own way from the crowded bar, having got two cups of cider and setting one of the cups down on a free stand, away from the crowd, while organizing my jacket under my arm, thinking back on the bar girl and what had just taken place.  
Blur had just started when I proudly announced my recycled cups, placing them confidently on the bar in front of the smiling bar girl as though I was single-handedly saving the planet. The flurry of voices from the crowd around me were suddenly drowned out by the distinctive Britpop sound. So I gave her the benefit of the doubt as she may not have heard me when I told her I'd like to return the cups. 
By this point our communication had reduced to gestures and smiles. She started to empty the cider that was already in two other plastic glasses into my cups, possibly believing I had brought them as a prevention against germs or some lingering Covid hangover and had wished to reuse them. 
The previous week I was here to see Depeche Mode. By the end of the night I had hoped to return the cups to the bar but by the time the show had ended they were all closed. An endless sea of smashed plastic containers washed across the field played on my mind since and I was intent on playing my small part in reducing climate change. So this time round I had returned armed with my own cups. But alas, my plan had been destroyed with one foul pour of the cider.
Meanwhile, the bewildered middle-aged lady who had been contemplating Blur's existence, was awaiting my response. It was also possible she had just thrown the question out into the ether in a sort of dismay. Who knows? After all, we were both wearing sunglasses which made it difficult to ascertain if the question was indeed directed at me. My mind did a quick scan of the situation. One, was she talking to me? Two, what was causing her doubt? And three, was that Blur?  
The investigation had begun. 
So I set my mind on solving the mystery. The first question I discarded immediately due to it being immaterial to the facts. The second and third would be a little trickier. 
'Yes, it is Blur', I answered the woman, hearing my own hesitation. 
But did she hear it? Were we now both in some kind of mutual and shared state of confusion? Was it possibly contagious? Was there a mass hysteria taking shape? Was the entire crowd wondering simultaneously whether this was Blur? 
I looked around quickly. Many were dancing, seemingly having fun and excited that the show had begun. The evening sky dressed in soft clouds extended the stage upward.  
Isn't it Blur? I questioned myself. 
A large Damon Albarn figure filled the gigantic screen and the answer to question three was solved. One more to go, so I thought!
'It sounds like them', I said to the lady, adding what I perceived as valuable information to our brief conversation. She appeared more confused than ever and not convinced that it was who she had come to see. If I could have seen her eyes, I imagine they would have had all the hallmarks of squints of doubt.  
'Okay, well, I hope you enjoy the show', I concluded, while sticking on my jacket at the last second, figuring I would need my hands and arms free for flexibility and balance as I would embark on my journey through the crowd.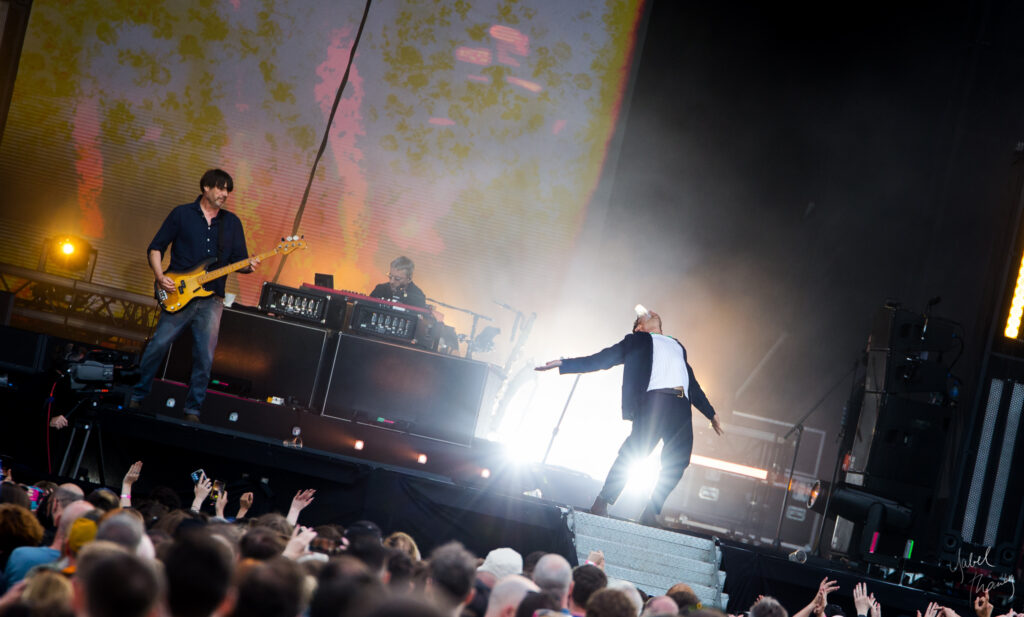 I had arranged to meet with Bella, my girlfriend, who was photographing the gig for beatyvyne and MCD, at the merchandise stand, after the third song. That's how many they get to shoot and is a sort of standard norm evolved over time. 'The third song', which has become a mantra of sorts for concert photographers.   
The merch stand area was a long way off, so I decided to set up a temporary camp just in front of the large middle screen, behind the sound desk. It's a position I always seem to flock to at gigs, especially at the more large open air events. I figure if you don't get to the front, which is now the 'circle' area; sold as premium tickets, then you're either left with being way back, where the sound can be distorted from cross winds; not to mention the distance that transforms the artists into ants on a gigantic stage; or on the sides which can be good, but the left/right profile perspective can get a little tedious after awhile. 
Two guys in Oasis T-shirts sarcastically walk past with grins on their faces, continuing the age-old debate and bringing a sense of the 1990's into the 2020's. 
It's been eight years since Blur released an album. In fact since 2003 they have released only one album, which was in 2015, 'The Magic Whip'. Having broken up in 2003 due to creative differences, Damon continued his experimentation with genres and sounds until their reformation in 2009. It's ten years since they headlined an Irish gig; perhaps a clue as to the bewildered lady's mystery. 
Such facts weren't of course lost on the band either, deeply aware of all that water under the bridge; and at one point Alburn even declaring himself that 'a lot of time has passed'…'it's so deep and yet utterly meaningless at the same time', both laughing and befuddled by time, meaning and life all at once – a sentiment that echoes in Blur's new single 'The Narcissist' which is a reflective piece on self and humanity, questioning actions and repercussions; and for myself a nod to the recent movie 'Don't look up'. 
Damon is now looking up, over the heads of the 20,000 large audience, across the historic grounds of Malahide Castle, and up towards the expansive sky remarking on the beauty of the cloud formations, and their surrealness over an ocean of green fields. 
I have now met up with Bella and we are getting a quick bite to eat, standing at the far end of the field as the frontman is swept away by the clouds. It's a beautiful moment. There is a depth to the evening that only live music can conjure.  
We giggle at the fact of how he seems to be a little out of it this evening, and perhaps a little in the clouds himself. But can you imagine how surreal it must be for an artist to play in front of such huge crowds? I collected our Cheese Pleeze burgers pondering on the difficulty of using such word groupings in a loud environment. 
Bella was scanning her photos from the shoot and was showing me one or two of them, telling me that she had to take the photos from the sound desk area – the same sound desk near the screen where I had made camp – as opposed to what photographers call the 'pit', the area just in front of the stage and in between the crowd. Here in the 'pit' you can get really good shots, nice close ups, multiple angles, good frame rates, and do that photography wizardry. 
Some bands don't mind the photographers taking photos from the 'pit', others do. It all depends on many factors – I won't go into the ins and outs but ultimately it comes down to control, contracts and what not. It's a big business after all and image is everything but in the digital era, control is even harder to manage. When everybody is a photographer, videographer and content creator, maintaining control is difficult, if not impossible. Some artists or indeed their management/label struggle with this while others embrace it and invite their fans to be part of it, to have fun with it. 
It could be argued that the more savvy artists choose the latter, opting to bring their fans with them on a journey. In times of quick paced technological changes, having your audience with you as you change as an artist allows not only your fans to be there with you, but also offers the artist room to evolve and grow as a creative.
After looking at a few of the photos, we headed back into the crowd munching on our Cheese Pleeze burgers as we made our way through the masses of people. I spotted the Oasis guys again – or maybe it was a different duo – and a couple of appreciative reactions from the audience who got the humour. It's like wearing an Everton football jersey in the Cop end of Anfield, I thought. 
We headed towards the merch stand area towards the left of the stage. It would be close enough, I estimated, albeit with the profile angle view, but will allow me to try out my new Augmented Reality application I built for the occasion, and have fun mixing digital with reality – something Mr Albarn is all too familiar with himself in his other guise as part of the Gorillaz. 
In the meantime Blur are banging out the old crowd favorites like Song 2, Parklife and The Universal, clearly lapping up the energy of the crowd. I wondered if the woman from earlier was now enjoying herself and had finally recognised the Blur she had come to see, or at least embraced the new Blur she was experiencing. 
That's the thing about music. It's a living organism that changes over time. It's not a static medium. It requires room to evolve in order to survive. Perhaps this was the answer to question two. 
The crowd around had erupted to the familiarity and it got me thinking of recent research conducted by Deezer that shows how in general, people at a particular age, aren't as interested in discovering new music as their younger counterpart – a fact which makes it hard for artists to evolve, especially for those fans who want to relive specific moments in their lives where the music has had such meaningful connection with – a soundtrack to one's life per se. 
Arctic Monkeys recent performance on the Glastonbury stage comes to mind of how their more hardcore fans expressed outrage claming how Alex Turner has butchered his own songs and is clearly intent on transforming the band into a 1970's Las Vegas tribute jazz act of their own material. 
In their defense, a more intune muso; Alex Baker of Kerrang Radio, put it perfectly, by observing how if these same fans had been paying attention they would have seen the trajectory and evolution of Arctic Monkeys over time and would not have been so shocked and perhaps wouldn't have expected a carbon copy of 'I bet you look good on the dancefloor' from 2006, and therefore would not have been so put out.  
But here lies the conflict of needs that can exist between artists who are born to evolve and fans' desires of freezing time for nostalgic purposes or whatever reasons. When such a struggle arises a dissonance can emerge and the relationship between artist and fan can come to an end.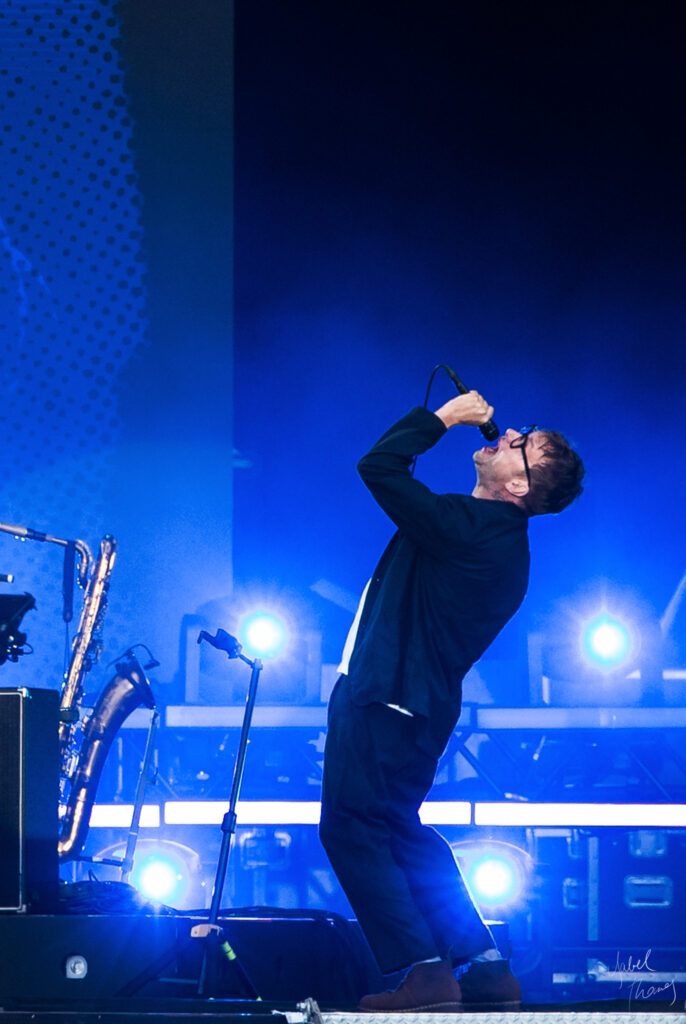 The gig was closing in on its finality with the second last song of the night; a ballad the lead singer declaring it as, which could only be 'The Narcissist', I surmised, from their new album 'Ballad of Darren'. He dedicates it to everyone. 
Ouch, I thought! But I guess he's right. Is this what we've all become? 
I've been listening to 'The Narcissist' on repeat since its release in May this year. So I knew what to expect. But many around me seemingly hadn't and had slightly disengaged or were simply not enamored with what is clearly a new sound for the band, geared at attracting a new audience – an audience that will allow the artist to evolve. 
In this space an artist can be creative and reinvent themselves. Blur have clearly reinvented themselves; if the 'The Narcissist' is any barometer. The flip side, however, is how a band can lose their original cohort of fans but that's the price that's paid.
Perhaps the befuddled middle-aged lady at the bar with sunglasses on and jacket around her waist isn't meant to recognise this new Blur. They don't exist anymore. And as Damon himself tells us during the show, 'that was then, there's no going back so let's leave it there'.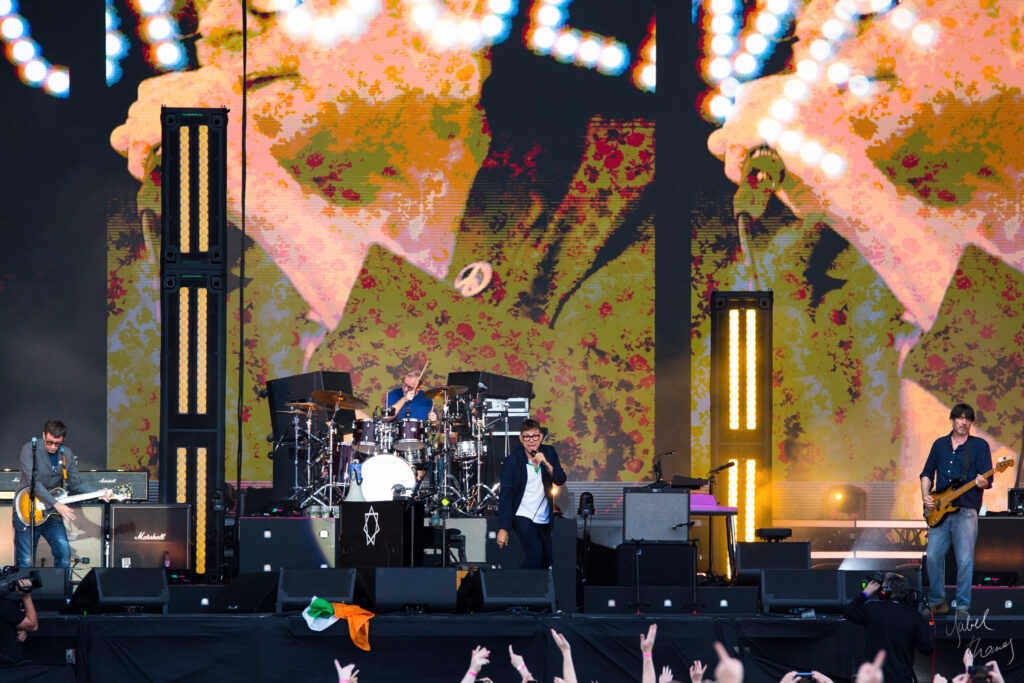 The band's upcoming 9th album 'Ballad of Darren' is scheduled for release on 21 July 2023 by Parlophone and Warner Records. A vinyl limited edition accompanies the release featuring stunning layered visuals, enabling fans to build closer ties with the band.  
All the best with the rest of the tour guys, thank you for the guest passes and the wonderful gig. And we look forward to seeing you again soon.