As science and music festival Bluedot reveals its 2020 headliners, with a "unique" work by singer Björk and the Halle Orchestra topping the bill, we take a deep dive into the artist's latest tour, Cornucopia, her recent visit to Dublin's 3Arena and the lifework to date.
Avantgarde, innovation, experimentation. These are just some of the words that come to mind when we think of Björk. The Icelandic songstress is an entire package making it impossible to single out any one thing that makes the phenomenon Björk work. She is an amalgamation. She is Björk! 
Known for pushing boundaries the artist has perhaps surpassed herself with her latest show, Cornucopia. But what makes it work is also possibly its achilles heel, picking up a mix bag of reviews – the good, the bad and the indifferent. The latest endeavour began as a commissioned piece to launch New York City's new art centre, The Shed, last April, which is an impressive moveable structure in Manhattan's West Side, and has since continued as a tour.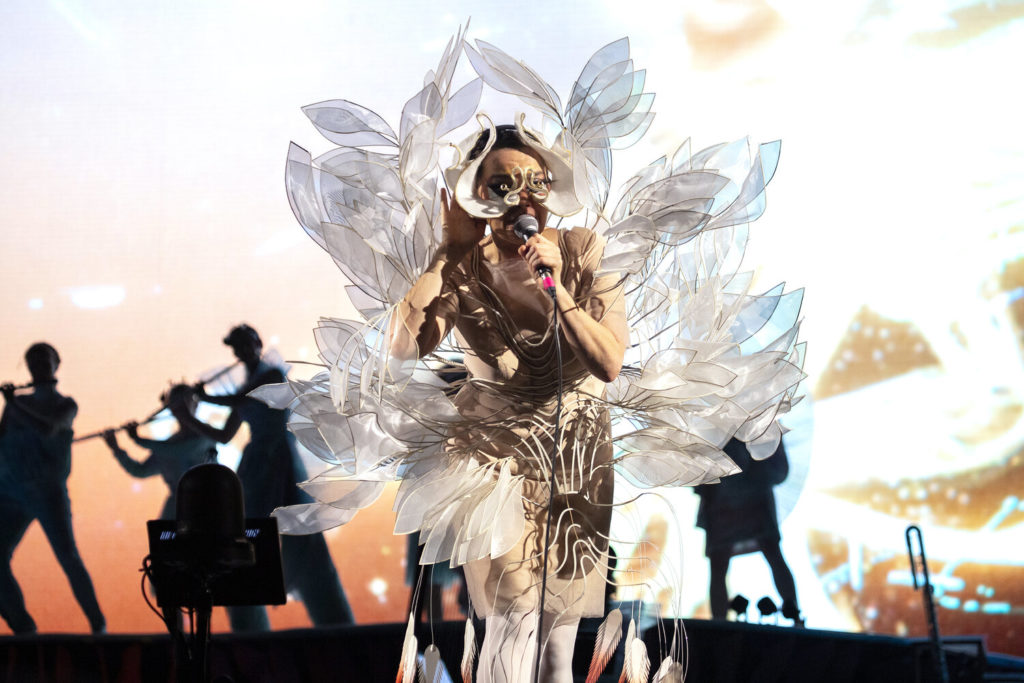 Upon entering the venue, it is clear from the outset that this is going to be no ordinary show. Each arena is transformed into an all seater amphitheatre, the curtain drawn resembling theatre of a by-gone era designed to amp up anticipation before the play begins. Nestling into our chairs for the night, the sounds of birds flutter across the space as we await the actors to take to the stage, adding a layer of drama of what is to follow.  
Cornucopia is more a work of art than a concert. It transcends the norm of what we think live music performance should and could be. The stage production is more akin to cinema bringing the viewer into the world of the imagination, a place for the unconscious to play, crafting dreamscapes and non-spaces that go beyond time and space. In such a world, Björk has the room to defy the usual mechanics of a 'gig' that most musicians are bound by, offering her an entirely new backdrop to weave her magic.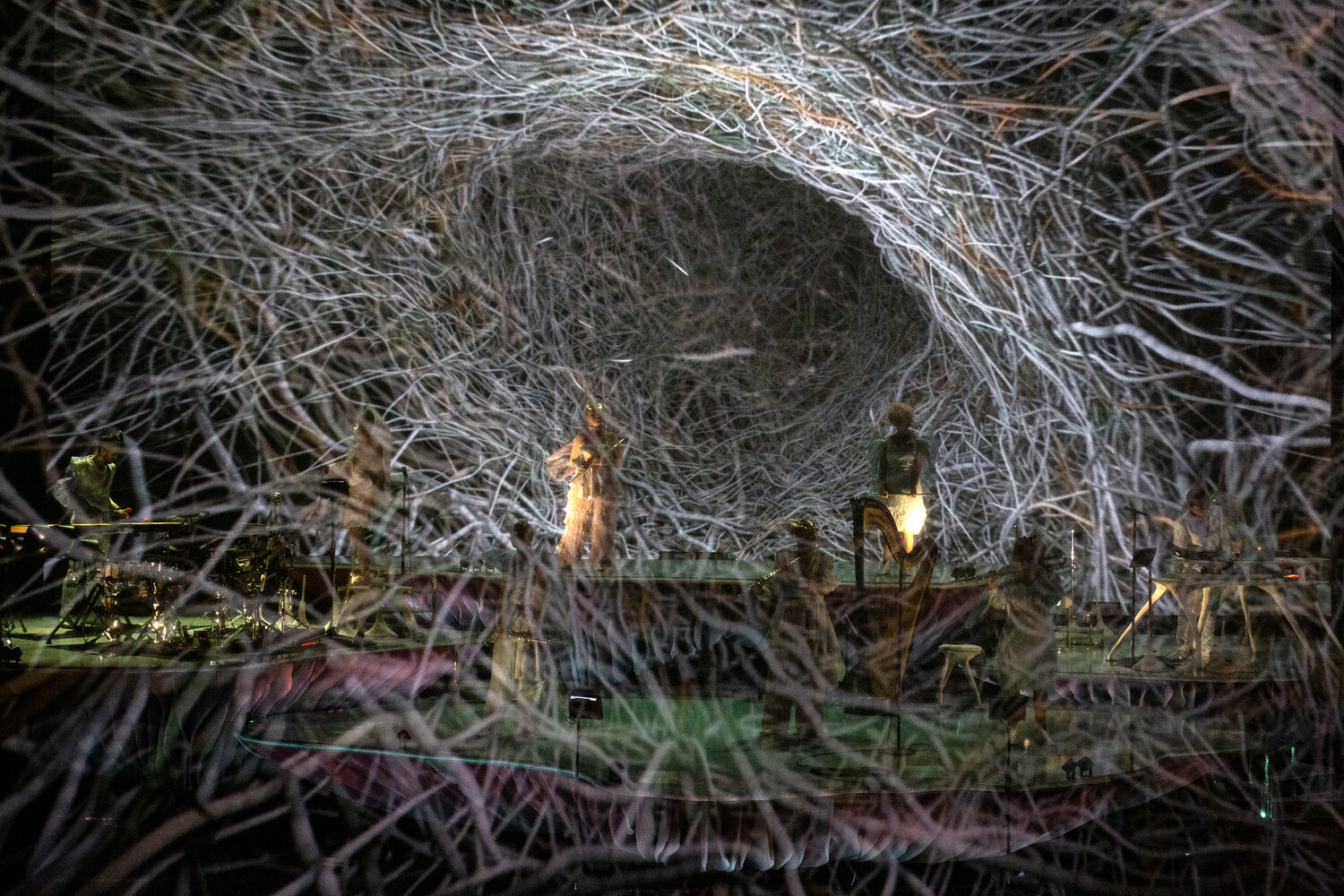 While the show is a stunning visual and sonic masterpiece, Björk always seems to have another trick up her sleeve. Never content to merely entertain, the artist has created a soundscape and visual otherworld in Cornucopia that allows her to pose deeper questions, challenging the audience to reflect on their own identities and rethink their place in the world. 
Describing her new show as "an optimistic proposal" on how we can deal with climate change, Björk envisions a post-apocalyptic future where "plants, birds and humans will merge into a new mutant species", which the artist first explored sonically on Cornucopia's 2017 parent album, Utopia. "On the album there are birds that sound like synths, synths that sound like flutes, and flutes that sound like birds… Nature will still offer energy, optimism and life. She always finds a way" the artist exclaims. Directed by Argentinian filmmaker Lucrecia Martel, the show uses an impressive array of digital visuals created by media artist Tobias Gremmler to express Björk's vision, one which resonates with the current angst of climate crisis and captures the dreadful zeitgeist the world finds itself in. 
A video message from Swedish climate activist Greta Thunberg compounds the overall theme, leaving the audience with a stark warning before the show's end.  
"You say you love your children above all else, and yet you are stealing their future in front of their very eyes," the 16 year old announces. "Until you start focusing on what needs to be done rather than what is politically possible, there is no hope. If the solutions in this system are so impossible to find, then maybe we should change the system itself".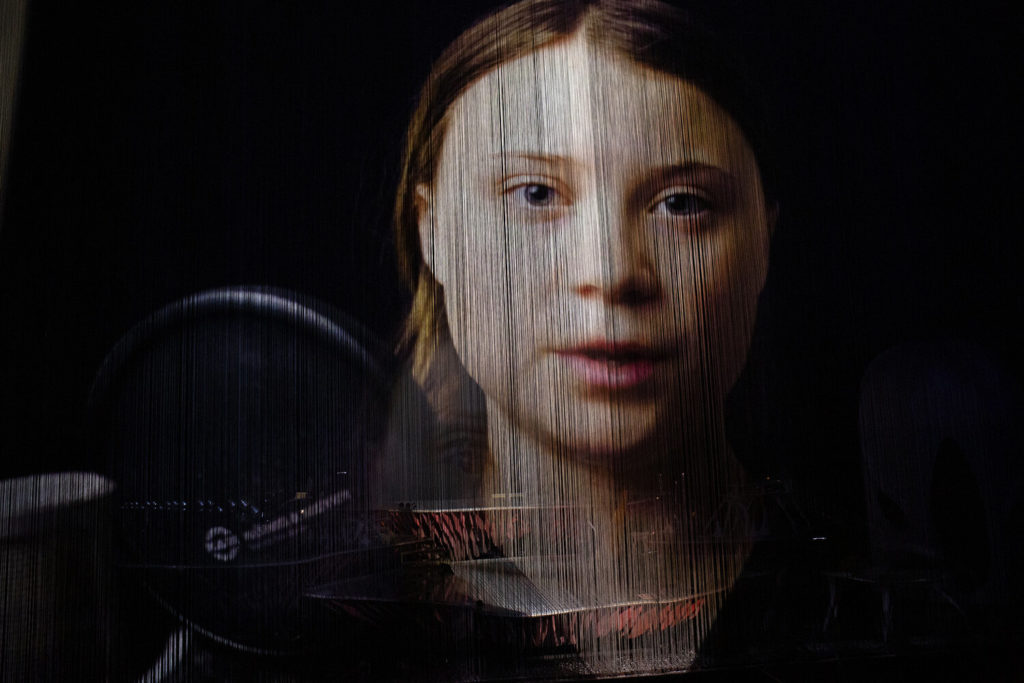 However, the issue of sustainability, raised by the artist herself, poses a paradox and possibly reveals a hypocrisy that runs deep throughout the entire music industry. During a time that sees artists such as Massive Attack and Coldplay raising questions of how to reduce carbon emissions produced from touring and stage productions, it is this point that has raised a few eyebrows and attracted one or two harsh lines from critics who question Björk's authenticity. While Cornucopia's central theme is embedded with the threat caused to our planet and the urgent need to make changes, it could be argued that Björk is adding to this threat by the extensive infrastructure and logistics required to move the production from location to location. After all, Cornucopia is a very elaborate show, designed as a once-off event for an intimate venue. The decision to bring it on tour is potentially unsustainable and raises the question whether it is in fact possible for the music industry to be sustainable at all. 
As humans we crave new things, to explore and go beyond what we know. Yet it could be said that the music industry has been in a state of flux for some time now. Terrified of the digital age,  the powers that be have tried desperately to cling onto a model that they could control. Yet nothing stops progress, which like nature, as Björk alludes to, always finds a way to evolve.  
Technology, for all its sins, has transformed and disrupted all industries and none more so than the entertainment industry. In fact many innovations begin here before they're either co-opted or transferred to their respective sectors. As a test bed, this is the perfect environment to explore new ideas. Björk is innately a rule breaker, and has always tested her limits and the limits of her audience. Never shy to ask questions, she has striven to innovate and experiment throughout her career.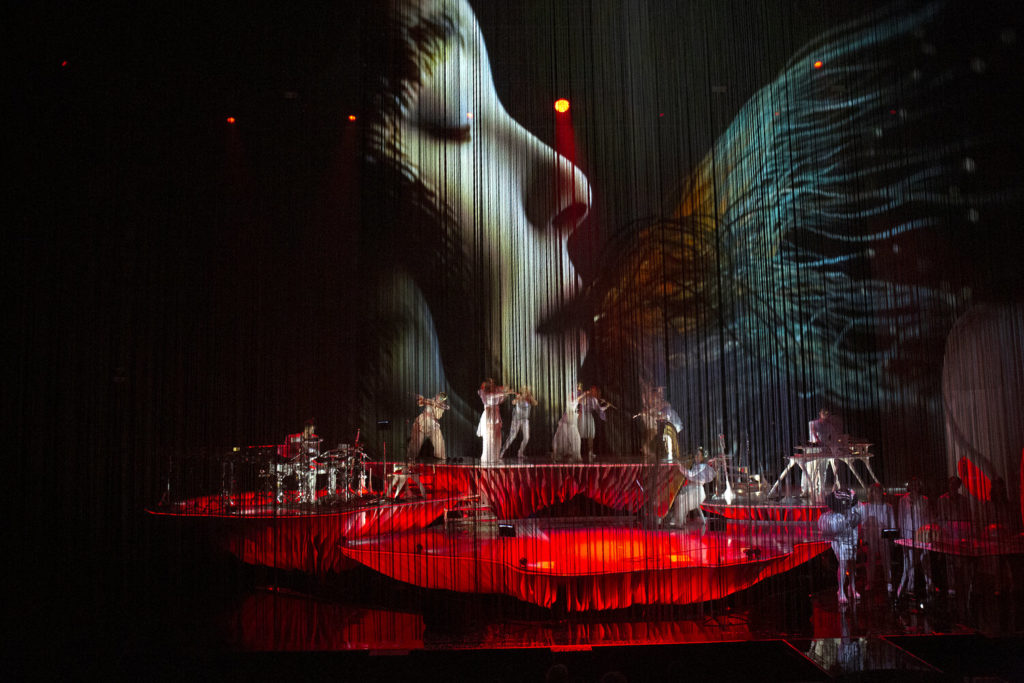 Now with the advent of the right technology at her disposal, it seems that Björk can finally conjure up the worlds she has always envisioned in entirely new and exciting ways. By nature Björk is a visual artist, and where many artists have been discouraged by the disappearance of CDs, Björk has noted previously that she has had the courage to embrace new technologies. Perhaps such a landscape is ripe for an artist who goes beyond just making music and is at her best when working collaboratively with multiple disciplines. It has been noted in the past that as a musician, Björk's sound can fall flat, but as a collective package, this is where Björk shines. It is this sweet spot – the intersection of art, technology and design, where she flourishes. If she isn't perceived as an artist existing within these parameters she can be misunderstood.    
In collaboration with Andy Thomas Huang they filmed 'Stonemilker' on a 360° camera on a beach in Iceland in 2014, which would ultimately form the basis of the re-release of her 2015 Vulnicura album, becoming the first ever VR album and which took almost six years to complete. It comprises of a number of visuals that toured museums as part of the Björk Digital exhibition. Apart from 'Stonemilker', the VR album features six other songs, including 'Not Get', which attendees of beatvyne's Music x Tech Experience got to try out in Dublin back in 2018. Accompanying the songs on the album is a 360 degrees animated score created by Stephen Malinowski.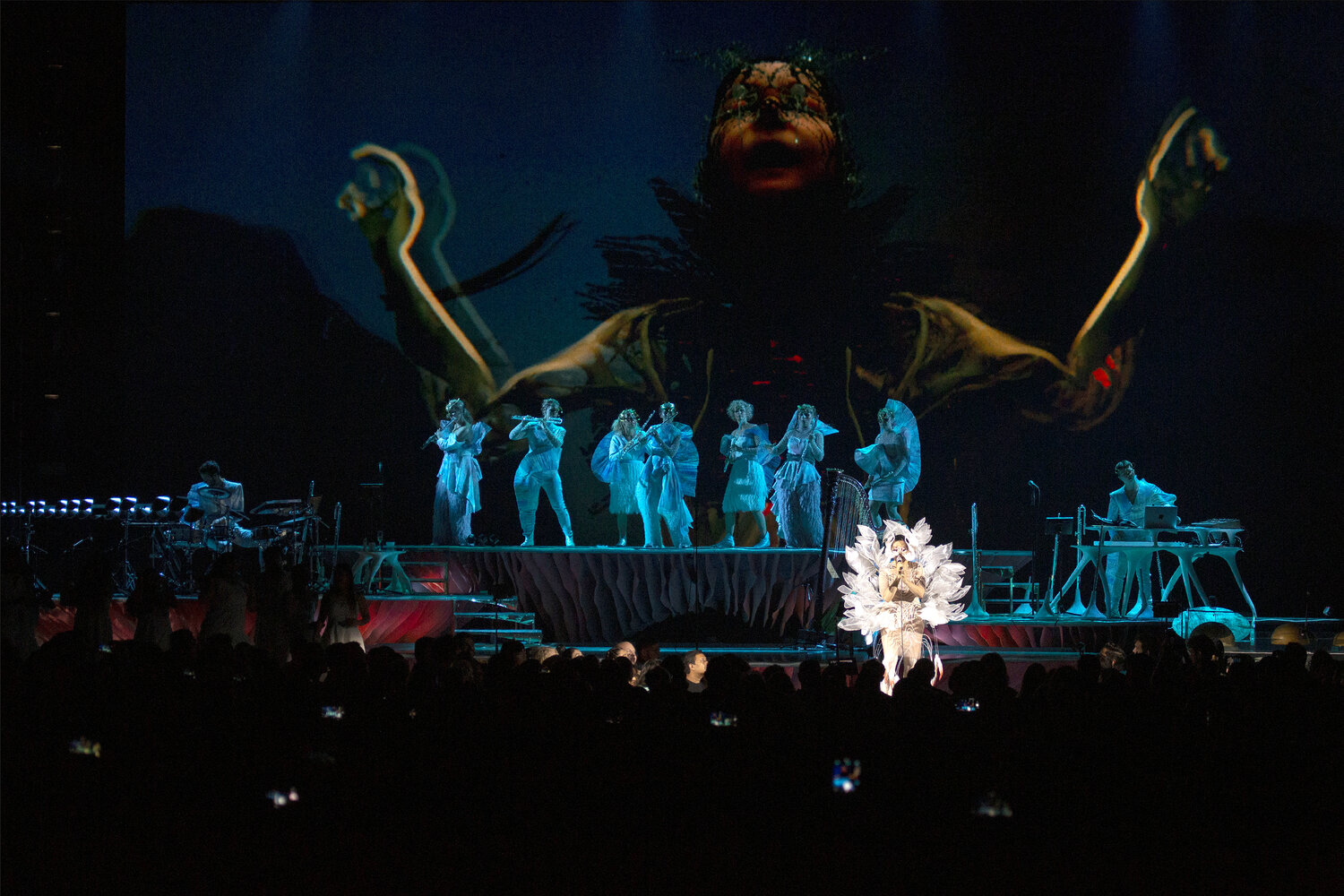 Björk's use of tech always appears fluid, never forced and always assistive to the weaving of her message and telling of her story. Although the Biophilia App album has received mixed reviews it is nevertheless demonstrable of an artist always seeking to find new ways to take her audience on an immersive journey and bring them one step closer to her work. Commenting previously on her artistic process, the artist tries to "keep faith in formats", noting that challenges are opportunities to turn "into an additional gift for the ideology in the music". The current climate that artists find themselves in, born from a rapidly evolving music industry, offers exciting, new opportunities for the adventurous. After all, fortune favors the bold, as they say! 
This new landscape, which Goldman Sachs describes as the second digital revolution, is ripe for innovative thought and perhaps the ideal building blocks for an artist like Björk, who is courageous in her attempts to make new, collaborative and engaging work that crosses disciplines. Her love for shapes, structure and ecosystems are all evident in Biophilia. While the album portrays the artist's fascination with geometry and its correlation with music, it is nevertheless arguably lacking in interactivity. Its promise of something more through great storytelling never quite lives up to the wonderful descriptions provided as additional anecdotes and unfortunately become nothing more than just anecdotes. However, this is a bold attempt by an explorer, and is a starting point of where the music experience can go, highlighting an exciting future that interconnects music, art and technology.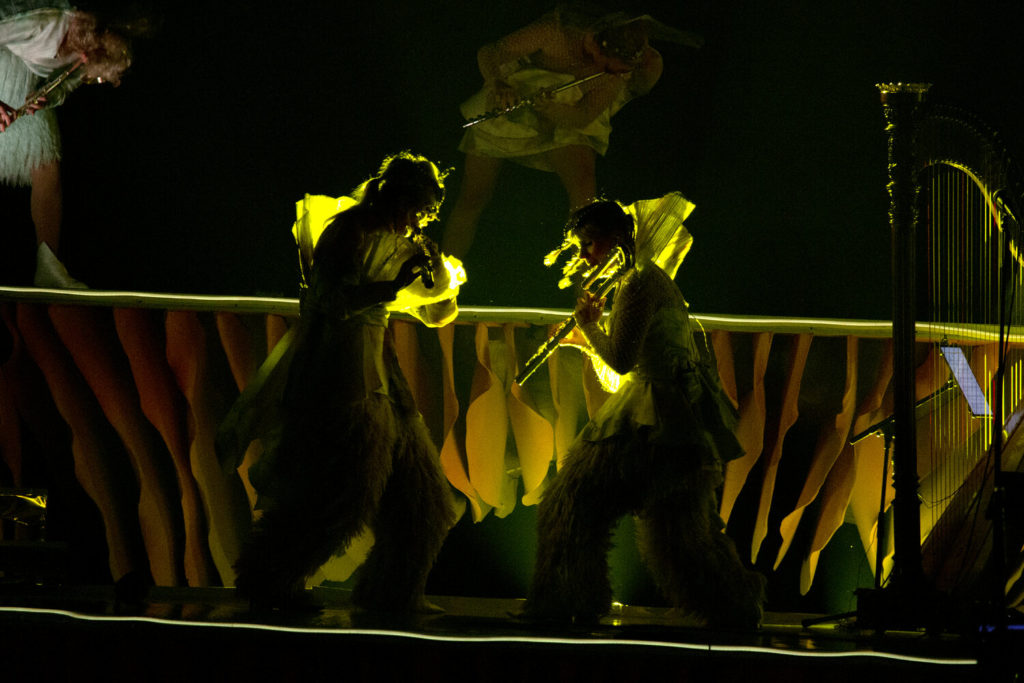 Back in the world of Cornucopia, the varying instruments incorporated lend to this continuing narrative of exploration, discovery and playful use of sound and space, which all add as extra layers to the sonic and visual landscapes of the show. The Circle Flute – which requires four people at once to play – are four conjoined flutes that are suspended in mid air and emerge onstage from overhanging chords – reinforcing the message of unity and community, a recurring theme in Björk's work. The water percussion made from gourdes conjure up sounds of nature as they splash and pour and become integral with the overall soundscape as they gently move in rhythm with the dancing flautists behind. Everything on stage works in unison, has its place and is an essential piece to the central theme of Cornucopia.
Our eyes are cast to the right of the stage, to a cocoon-like chamber, which is a large pod created to resemble a basement structure reverb chamber. As she sings inside this chamber, a room within a room, the sound changes, producing a natural amplification effect which separates her vocals from the overall sound, creating a sense of isolation – a feeling the artist has reported in the past of singing alone in nature. This chamber, it could be said, reflects Björk's deep affection for the natural world and her understanding of the relationship between people, sound and space.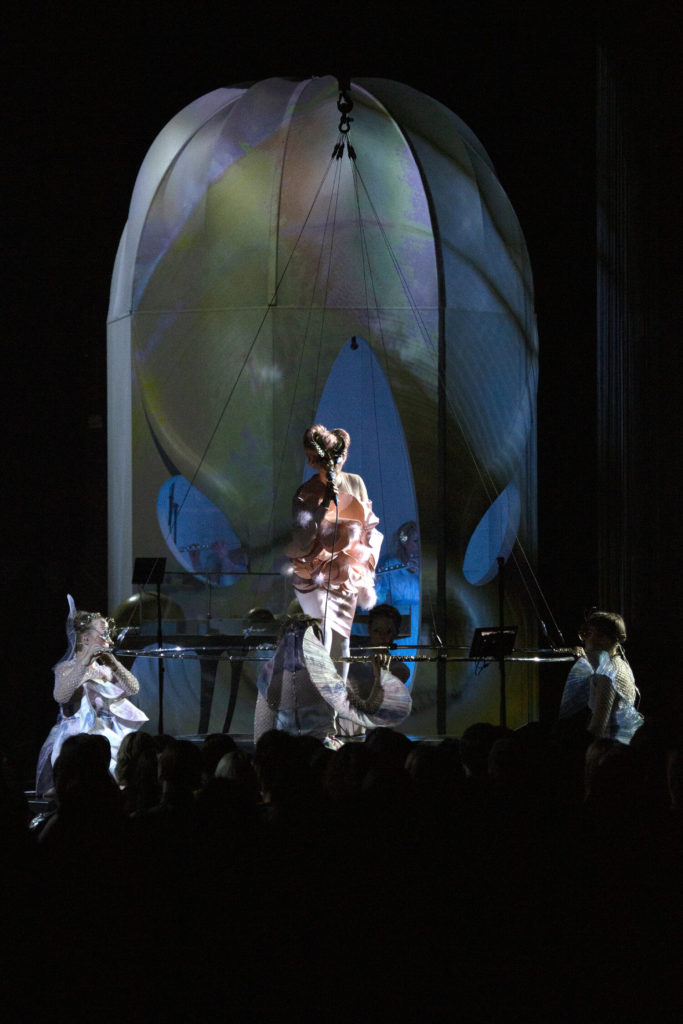 While technology rapidly develops and the rise of Artificial Intelligence and Extended Reality (VR, AR, MR) become more commonplace in the realm of music, media and entertainment, it is without doubt that the Icelandic singer will be centre stage, leading the way for others to follow and continuing to break the norms. She has already shown that in order to potentially survive as an artist in this new era, it is important to break out of the mold, adapt to the changing landscape of technology and break free from the notion that music is a static sphere existing in isolation away from all other industries. The time of the narrow music industry is over.
What we can learn from Björk, whether it is through her VR, apps or live experiences, is that she interweaves between multiple disciplines and brings it all together. She realised from very early on that music is not a standalone system, but is in fact, an interconnected ecosystem which transcends music alone, and a multitude of opportunity exists across a myriad of media, technology and the arts. Today's tech driven age has magnified this and offers even greater opportunities for those who see these new landscapes merging together.
Photos by Santiago Felipe
For more photos visit the Cornucopia Gallery here
beatvyne is a live music marketplace that connects fans and artists in alternative and unique music spaces. If you'd like to reimagine your music experience join us here.
Want more beatvyne stories?
Till next time,
The beatvyne crew